Malkangni oil 100ml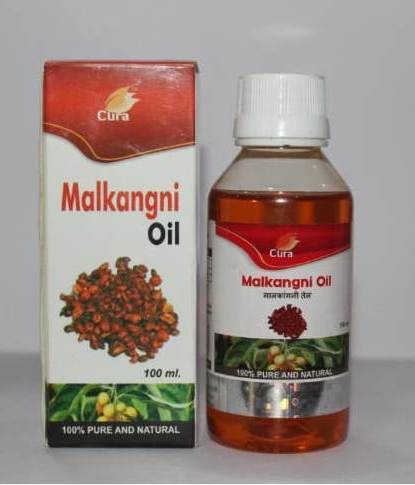 Malkangni oil 100ml
Product Specifications
yes

Anti-Aging, Antioxidant, Herbal Medicine
Product Description
Malkangni oil, also known as Jyotishmati oil or Celastrus paniculatus oil, is an herbal oil derived from the seeds of the Celastrus paniculatus plant. This plant is native to India and is commonly used in Ayurvedic medicine for its medicinal properties.
Malkangni oil is a rich source of fatty acids and is used in traditional medicine to treat a variety of ailments, including joint pain, memory loss, anxiety, and stress. The oil is also believed to have anti-inflammatory, antioxidant, and neuroprotective properties.
In Ayurvedic medicine, malkangni oil is often used as a massage oil or as a component of herbal remedies. The oil is typically applied topically to the skin or scalp, where it is believed to improve circulation and promote relaxation. It is also used in some traditional Ayurvedic formulations for cognitive enhancement and memory improvement.
While malkangni oil is generally considered safe for external use, it should not be ingested without the guidance of a qualified healthcare practitioner. Like all essential oils, malkangni oil should be used with caution and in moderation, as it can be irritating to the skin in some people. It is also important to choose high-quality, pure malkangni oil from a reputable source to ensure its safety and efficacy.
Contact Us
B no Plot No 13 A 13 Site 2, Industrial Area, Mohan Nagar,, Ghaziabad, Uttar Pradesh, 201001, India
Phone :08037402503